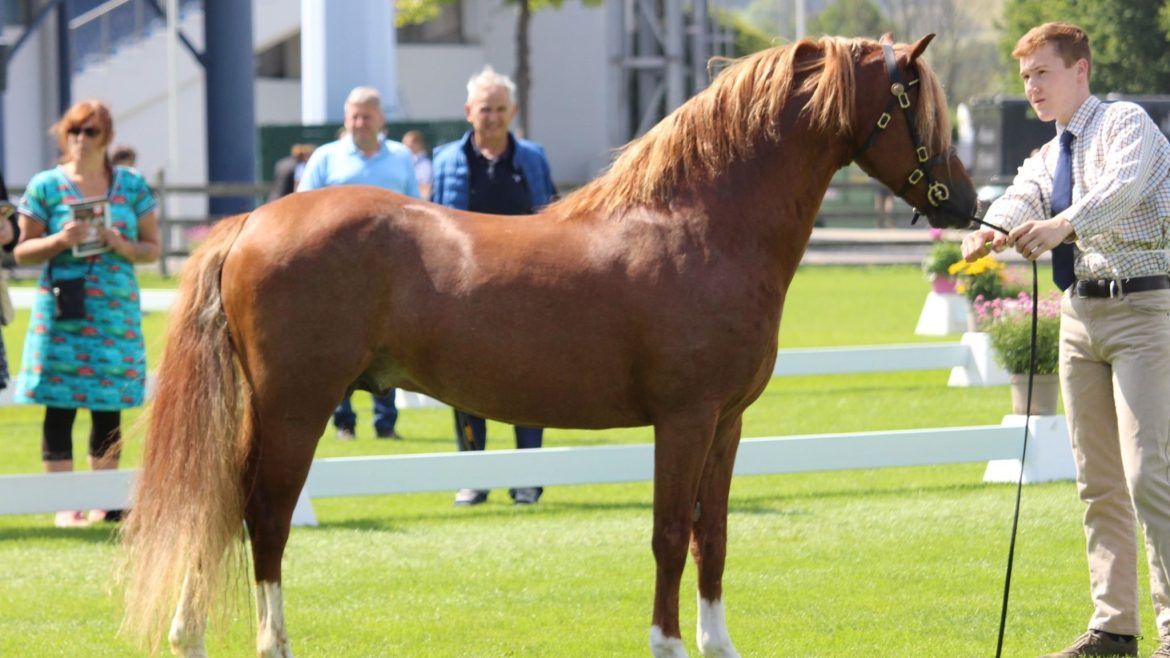 Wildzang's A Dream Dessert
Wildzang's A Dream Dessert is an interesting stallion that we wanted to have for a bit of outbreeding of our sec B bloodlines in the stud, to have the best possible combinations for the future!
A Dream Dessert is a NWPCS-Licensed Stallion, who is up to height (1,36 cm), with a very nice Welsh B type, with charisma and a powerful, correct straight forward movement.
His sire Wildzang's Luster Madog was for many the most beautiful of his year and so already a designated stallion. Madog  is by Thistledown Lawrence of Arabia (Paddock Sahara x Cottrell Lara) a son of Paddock Sahara, the Royal Welsh champion of 2005. Sahara is a product of half brother x half sister, both of the Downland Chevalier son Paddock Camarque. Dam Cottrell Lara, was second at the Royal Welsh and the most successful B pony at the Horse of the Year Show. She is by the champion stallion Cwrtycadno Cadfridog, out of Cottrell Liberty by Rotherwood State Occasion, a stallion that has already proven his worth over and over again. Cottrell Liberty is out of Cottrell Lisa, out of Revel Glimpse and therefore very closely related to Cottrell Lucinda, also out of Cadfridog, out of Cottrell Lapwing, and Lapwing is a full sister to Liberty.
Cottrell Lucinda is known in the Netherlands as the mother of the studbook stallions Lucas, Luciano and Lucius.
Madog is out of the multiple Dutch and Royal Welsh champion Valeur Dancing Fairy Lustre who won everything there was to win, beautiful breed typical mare with a great presentation and beautiful movements. Fairy Lustre was the last foal from Paddock Silver Lustre, who her self was the last foal from the beautiful & famous Royal Welsh-winning mare Reeves Fairy Lustre. Valeur Dancing Fairy Lustre is a 3/4 full sister to RWAS-Champion 2007 Paddock Northern Lustre of the Thistledown stud. Lawrence is sired by the Royal Welsh Overall Champion section B 2005, Paddock Sahara. Lawrence's dam is the beautiful mare Cottrell Lara, who moved like a dream.
In the motherline, we see Wildzang's Golden Dream, KEUR, and her KEUR & ELITE mother Wildzang's Roswita by ELITE Shamrock Mister Oliver. We also see the stallions Wildzang's Socrates (once leased to Sweden for a year back in 2014) and Den Bramel's Bucco (grandson of Eyarth Harlequin) in the pedigree of this umpteenth breeding success of the Valk family.
Wildzang's A Dream Dessert has a very successful show career where he was placed 2nd in 2018 and 1st in 2019 at the NWPCS-Stallion Show. His show career was highlighted by becoming 1st at the 21st International Welsh Show The European Championship in Aachen August 2022, in very good company.
CHK 2018 jury report (as a 4 year old stallion):
"Wildzang's A Dream Dessert has a solid, well-developed B model and shows himself to be a real stallion. He is nicely lined, especially his best developed hindquarters stand out positively. The neck comes a fraction deep from the chest. The movements are shown with more than sufficient space, but the stallion has to find more peace in this."
Wildzang's A Dream Dessert has been running with the mares for the last 3-years, and had some very promising offsprings, like the Wildzang's Stud's filly Wildzang's Time Morgana who is "Ster". He also covers in hand.
Wildzang's A Dream Dessert has been prepared for the ridden job which we will continue.
Sire:

Wildzang's Lustre Madog (Thistledown Lawrence of Arabia - Paddock River Dance)

Dam:

KEUR Wildzang's Golden Dream (Wildzang's Socrates - Shamrock Mr Oliver)

Born:

2014

Colour:

Chestnut