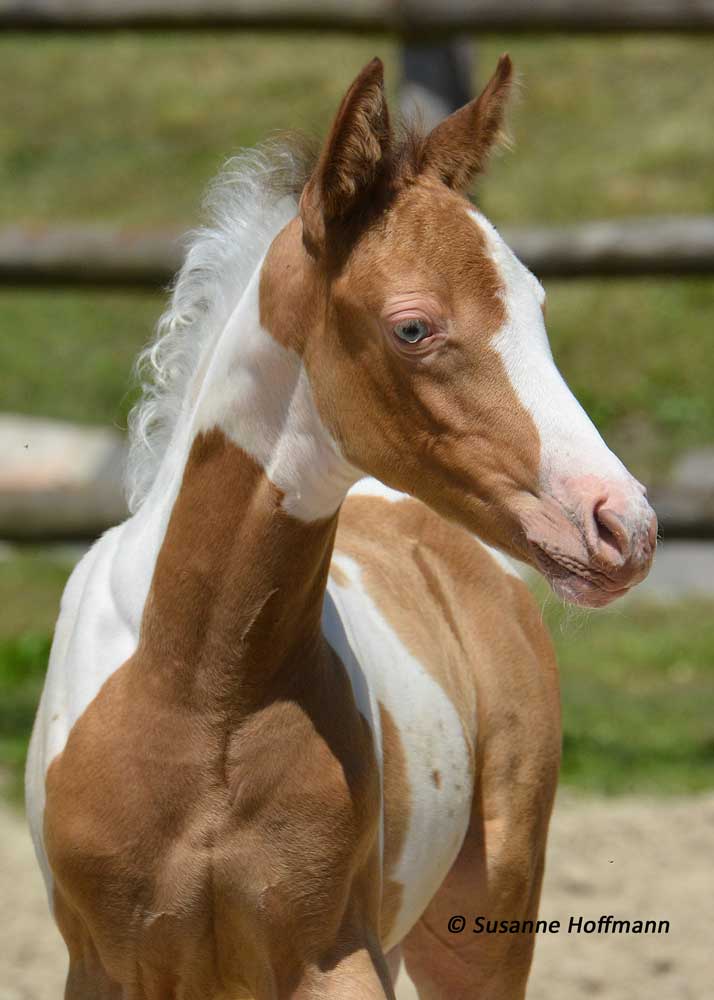 When we saw her, we just couldn't resist as Jalina is linebred to our fantastic amber champagne stallion Khalvin Khlein KpM! She is a German Riding Pony with 59% Arabian.
Champagne foals are born with bright blue eyes, which later color to amber. Particularly striking is the special shine that is inherent in the Champagne gene and which is reminiscent of the shine of the Akhal Teke. It is a dream for breeders but also an absolute eye-catcher for the ambitious rider. Both her father and the mother's half-brother passed their stallion performance test with TOP marks and were awarded as performance stallions. Khasanova convinces above all with a first-class step and enormous rideability and willingness to perform. Jamila's mother was premium awarded as a foal and then again as a breeding mare when she was 3 years old.  Jubilar, father of Judith, competed as Pony against Warmbloods in Jmnping class M. Khalvin has the most amazing temperament ever, and the riders on his 30 day stallion test in Germany loved him – just as we do.
This means, that even though we bought her because of her color – she is homozygous champagne – and her relationship to our beloved stallion Khalvin, we have the best possibilities to breed top class performance riding ponies with her.
Sire:

Khasanova (Khalvin Khlein KpM x Painted Satina)

Dam:

Jamila (Champ x Joleyne)

Color:

Amber Champagne Tobiano (homozygous for Champagne)

Born:

2020

Pedigree: https://www.allbreedpedigree.com/jalina9